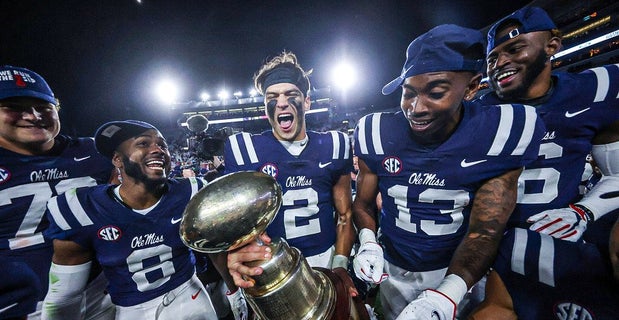 The Ole Miss Rebels own a respectable 4-4 record eight games into this COVID-19-infected season and the probability of them going bowling is very strong. Ole Miss still has two difficult games remaining, both on the road, at No. 5 Texas A&M and LSU. With the NCAA, though, suspending win qualifications for bowl games this season, and with the Southeastern Conference's strong and numerous bowl tie-ins, the Rebels are practically guaranteed a ticket to the postseason for the first time since the 2015 season.
In this week's CBS Sports Bowl projections, the Rebels are picked to wind up their season in Nashville, Tenn., in the Music City Bowl. It is the second consecutive week a national outlet has forecast Ole Miss to the Music City Bowl. Last week 247Sports predicted an Ole Miss/Maryland matchup in Nashville. This week, CBS Sports predicts Ole Miss will find itself opposite the Iowa Hawkeyes in the Music City.
Ole Miss athletics director Keith Carter said two weeks ago that the university had already formed an in-house bowl committee and fully expected the Rebels to be bowling in head coach Lane Kiffin's first year on the job.
"We anticipate going to a bowl," Carter told the Ole Miss Spirit. "We're planning to go to a bowl. That's what we want to do. We want to continue to allow our young people opportunities to play and compete. Obviously, we'd love to win a couple of more games and bolster that resume', but we've got a committee right now that's already planning to go to a bowl. That's our hope."
Ole Miss has won three consecutive football games for the first time since the 2015 season.