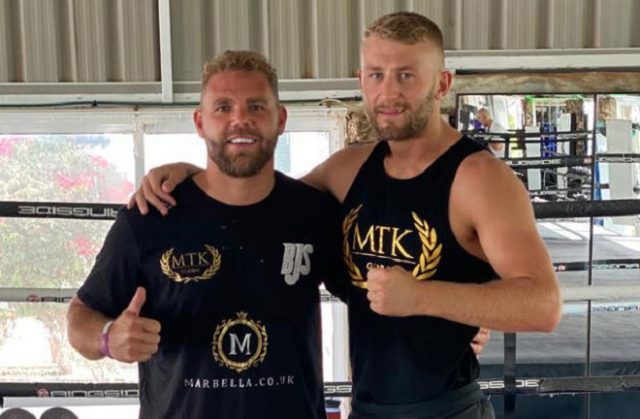 Billy Joe Saunders is determined to secure his legacy and the next few years will determine whether he is able to do just that.
The two-weight world champion might have business to deal with in four-time world title challenger, Martin Murray on Friday night, live on Sky Sports, but it appears the current WBO Super Middleweight world champion already has one eye on the future with two of his brightest prospects given the opportunity to shine on the same card.
Standout amateurs, Donte Dixon and Lewie Edmondson inked a managerial deal with Saunders alongside MTK Global and both are benefitting under the 31-year-old's experience.
Edmondson (3-0) has been operating at Light Heavyweight since turning over after a stellar amateur career which saw the Southampton native amass 52 victories and claim three-nations titles, just missing out on a place at the 2016 Rio Olympics.
A technically sound operator, the 25-year-old moves in and out of range, never staying in the pocket for too long and times his shots with accuracy and precision, whilst switching between orthodox and southpaw stances with regularity.
'The Saint,' who is promoted by Frank Warren's Queensberry Promotions takes a step up in class and opponent on Friday, after securing a comfortable win over Scott Williams on an MTK Global show last month, facing former Central Area Middleweight challenger John Telford.
A durable and tough fighter, Edmondson will have natural size and a height advantage over his foe, standing at 6″1, although the Manchester man has never been stopped, so a win within the distance on Sky Sports would be a big statement for Edmondson.
"I think I've got it bit of it all," Edmondson said on a media call on Monday.
"I can go forward, I can box on the back foot, I can box long, I can get stuck in.
"We'll see what John Telford brings and we'll see what Lewie Edmondson gets."
Edmondson has been training alongside his manager out in Fuerteventura in a gruelling training camp in preparation for Friday night.
Saunders, who missed out on the chance to face Canelo Alvarez prior to the COVID-19 pandemic has sparred with Edmondson and 'The Saint,' who sees his future at 168lbs, insists he is grateful for the support from Saunders in and outside of the ropes.
"We've sparred before, he's unbelievable, he's unreal," Edmondson added.
"It's brilliant to learn off, it's very good.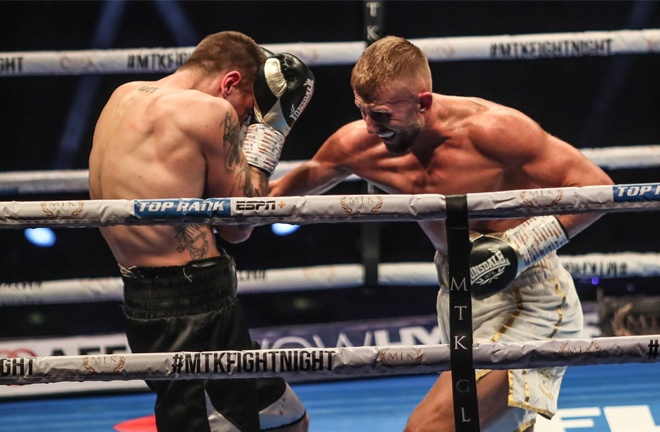 "[He's told me] stay composed, stay sharp, stay in the gym all the time, stay fit and grab every opportunity you get with both hands.
"I'm really grateful. Obviously I've had three dates.
"I fought three weeks ago, maybe four weeks ago and I had a date before that when I tested positive for Coronavirus and then I'm out again now.
"So obviously in a hard year where nobody's fighting, I've had three dates so I couldn't be more pleased and everything Bill's doing for me is unbelievable, it's much appreciated."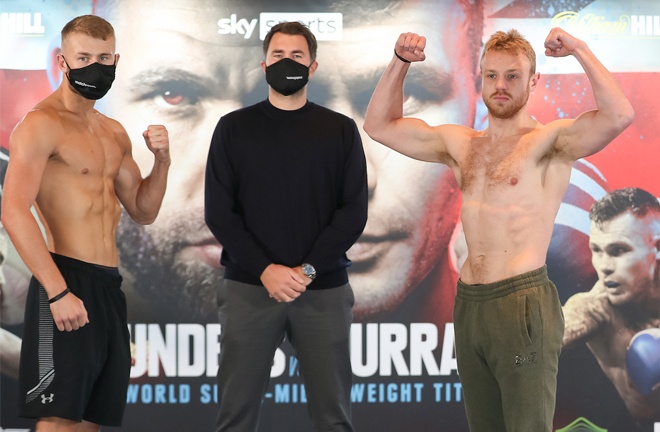 Saunders believes that both Edmondson and Dixon are destined to become world champions, having seen them both first hand and during a period where boxing was surprisingly excluded from the £300m government bailout, Saunders believes it remains imperative to invest in the next generation at the earliest point and provide them with the opportunities to excel on the biggest stages.
"When you see young talents coming through," Saunders said on a media call on Monday.
"You can spot world elite talent coming through that you believe can be world champions, it's nice to work alongside them.
"I believe that them two there [Edmondson and Dixon] managed by myself and co-managed with MTK [Global], I believe that they can be world champions too, guided with the right advice and right fights.
"To get on these bills, just to be seen on these bills, I think it's very important even for these promoters to see these young talents because these are the future coming forward.
"All of the AJ's, myself, the Fury's, all the big names in the UK, we're not going to be around for the next 10 years that's for sure, where these guys are.
"It's important to get them seen early and get that stamp on them where people go 'do you know what, we'll have him' and get their careers and guide them on the right path towards world titles."
It remains early days for Edmondson and indeed Dixon, but their early promise certainly hasn't gone unnoticed, especially by Saunders and an impressive display from both men on Friday night will go some way towards verifying Saunders' strong belief in them.
Comments
comments